Vision and Values
Introduction
Selecting an accounting firm can be one of the most important decisions an individual or business has to make. Virtually every financial decision can have a tax consequence; therefore it is advisable to select a team that is highly educated, knowledgeable, experienced, and technically skilled to implement strategies that will maximize your wealth accumulation while avoiding the pitfalls of inadequate planning. We, here at Boyer & Boyer, would like to evaluate your situation and inform you of planning strategies.
---
The accounting profession is based on a strict code of ethical standards, professional and personal integrity, and independence. It is these very standards of our profession that gives value to our services and assures continued public trust. These hallmarks of our profession are the very essence of how Boyer & Boyer has conducted business on a day to day basis since we began operations in 1975. We stand apart from other firms by taking the time to understand your strategies and goals for the future.
Our role as Accountants will be to provide each client with Innovative Thinking and Planning Strategies that will inspire their Financial Success.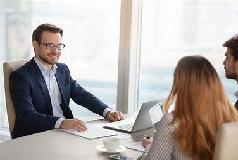 YOU ARE THE MOST IMPORTANT PERSON IN OUR OFFICE
Confidentiality
Your financial information and affairs are handled with absolute confidentiality under the highest standards of accountancy.
Professional Personalized Services
You deserve timely and professional service. Our staff values your business and will work together as a team to provide you with the best service at the least cost available.
Accessibility
We value open communication with our clients, as we want you to feel comfortable asking questions, inquiring about important decisions, and discussing your concerns at all times.
---